Sou Oribe
Sou Oribe as seen in anime
Japanese Name
僧 織部

First appearance:

Manga
Chapter 1
Anime
Episode 1

General information:

Gender
male
Age
17
Alive
yes
Affiliation
"Blue Steel", Chihaya Gunzou
Current occupation
I-401's first mate
Previous occupations
Japanese National Maritime Institute of Technology student

Appearance:

Eye color
unknown
Hair color
unknown
Notable details
wears helmet that completely conceals his face

Voice Actors:

Japanese
Matsumoto Shinobu
German
Unknown
Sou Oribe is a member of the I-401's crew; he is also a childhood friend of Gunzou and his classmate from the Japanese National Maritime Institute of Technology. He is the I-401's first mate.
Appearance and Personality
Edit
Sou Oribe is a rather tall male. His face was never shown as he is always wearing his red and white face-mask. In one of the episodes, Sou claims that the mask is used due to his allergies. Sou Oribe's clothes consist of varying sweaters and blue jeans.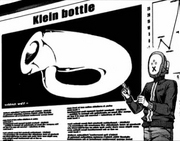 He comes across a rather mysterious type because he isn't talking very often. His hobbies are making various schemes, diagrams and slides. He is a pretty good lecturer with the first-hand knowledge about the "
Fleet of Fog
" technology. During the
I-401
's rather short stay at the Yokosuka port, he was invited to read a lecture on the
Wave-Force armor
at the Military Command of the local naval base. Back when he attended the Japanese National Maritime Institute of Technology, he was ranked 4th on the last annual test that he took.
We are first introduced to Sou Oribe when he is already the member of the I-401's crew for a long time. From Iori's dialog with Gunzou it is revealed that he, along with Iori Watanuki and Kyouhei Kashihara, had joined the crew a couple of months before the battle with battleship Hyuuga. Ever since then, Sou Oribe has been I-401's first mate.
Sou Oribe doesn't have his personal mini-arc, so for the most part he is a background character.
Relationships
Edit
Sou Oribe is the only character whose face has never been shown in the series.
His mask has a hole through which he eats. Underneath the outer red-and-white hard mask there is another one, apparently pure-white in color. And while he takes the outer mask off for maintenance, the inner mask is always hiding his face.
Community content is available under
CC-BY-SA
unless otherwise noted.